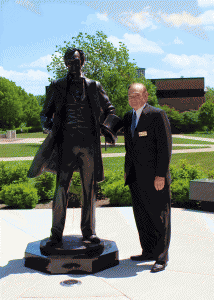 Society for Advancement of Management, Inc. (SAM) is a nonprofit organization established in 1912 and founded to promote the scientific study of the principles governing organized efforts in industrial and economic life. Today, we fulfill this mission through the study of management theory and practice.
Using the technical, human, and conceptual skills definition of managerial knowledge needed by an effective administrator, SAM concerns itself with conceptual skills; seeing the forest for the trees.  As such, every individual in any specialty should join SAM in addition to his/her field premier academic associations.
Our campus chapters serve students by providing an opportunity to practice leadership by serving as officers of local chapters and participating in the annual case competition. This competition has been one of the most important activities of SAM for the past third of a century. Chapter activities provide an excellent opportunity through student engagement to complement the theories studied in the classroom. SAM has served tens of thousands of students throughout the years. To grow intellectually from a business perspective, everyone needs to be part of SAM and its thinking framework.
Central to the organization, members and others attend the annual SAM International Business Conference. These conferences provide an opportunity for faculty members, industry professionals, and business students to present their academic work before their peers. The SAM Advanced Management Journal, a refereed publication in its 79th year, provides an opportunity for faculty members and others to publish their original research related to all areas of management. Although the journal uses a broad definition of management, the main drive of the journal is to publish empirical and theoretical advances that are relevant and innovative to the practice of different industries.  Interested individuals can join SAM, register for the Conference, or subscribe to the journal.
Chapters can invite professional business leaders to be members of the campus chapter and serve as mentors to students.  This is a valuable way to engage students and help them prepare for future employment.
We are also looking at new opportunities for SAM Chapters and members.  These opportunities may include such things as a journal for faculty/student research/cases, reinstating our Management In Practice journal, national internships for students, and processes that support AACSB International accreditation (e.g., assurance of learning and participant engagement that is innovative and has demonstrable impact) to name only a few.  We are in our second century and wish, as Frederick Taylor did with Scientific Management, develop and implement processes and products that take our stakeholders to a new level.
SAM is above all a volunteer-driven non-profit organization dedicated to the education of its members and society in general. These programs are funded through member dues, conference fees, subscriptions for publications and copyright fees. The organization is managed by many volunteer members.  Our volunteers are making significant contributions which allows SAM to be of great value to our stakeholders.
We are always looking for talented individuals to serve as members of the Board of Directors, serve on the editorial board of the Journal, start a campus chapter, or volunteer to help as we take SAM into its second century. If you desire to volunteer or have any question, please contact us.
Best Regards,
Ronald D. McNeil, Ph. D., Board Chair and CEO of SAM
Dean, College of Business and Management and PNC Distinguished Professor
University of Illinois Springfield
One University Plaza, UHB 4000
Springfield, Illinois 62703-5407
Tel: (217) 206-6534; ­ Fax: (217) 206-7541
E-mail: sam@samnational.org
Web site: www.samnational.org